Lake Erie Yellow Perch Charters
(click images to enlarge)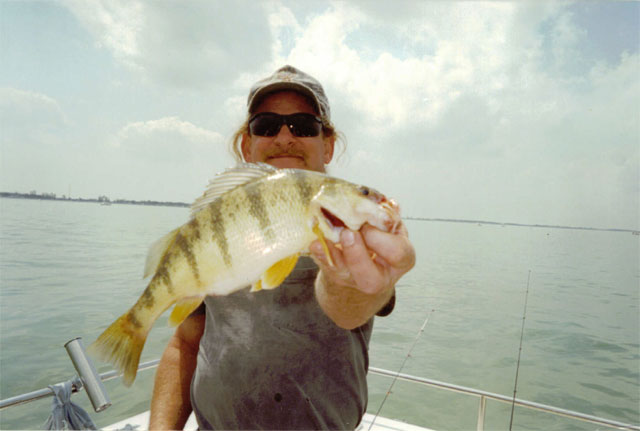 Yellow perch are considered by many to be the best eating fish in Lake Erie. Our area provides the best yellow perch fishing charters on the Great Lakes. They are schooled up by early August. We catch perch until we pull the boats out in early November. What a great fish to get the kids hooked on fishing!
Anchoring in deep water is best and fishing the bottom rigged with two hooked spreaders tipped with shiners therefore it is common to catch two perch at a time.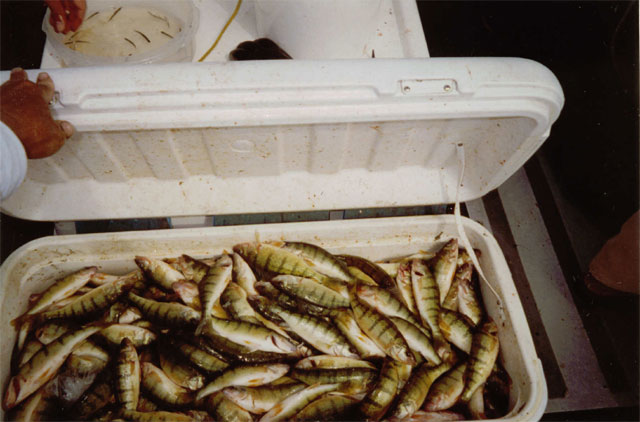 Ohio's ODNR limit is 30 per person per day as a result we can usually limit in a couple hours. Limiting out when perch fishing is common therefore suggest fishing a combo trip hence catching a combination of smallmouth, walleye and yellow perch at no extra charge.
Check our fishing chart page it will show you the best time to book your yellow perch fishing charters.
or
CALL US FOR MORE INFO!!
(419) 340-0601
Yellow Perch Factoids
Yellow perch are golden yellow to brassy green with six to eight dark vertical bars and a white to yellow belly. Perch do not have large canine teeth like the closely related walleye or sauger therefore they are great starter fish for kids. Their pelvic and anal fins usually have some orange coloration and the first dorsal fin has a dark blotch near the rear of the fin. All other fins are relatively clear with no distinct markings hence they are easy to identify. Also referred to as the lake perch or ringed perch, the yellow perch is in the Percidae (perches and darters) family. It is a sport fish that usually measures 5-12 inches in length most noteworthy this size is best to eat. They can reach 16 inches therefore it typically weighs .25-1 pound, but has been known to reach just over 2 pounds.