Lake Erie Smallmouth Bass Charters
(click images to enlarge)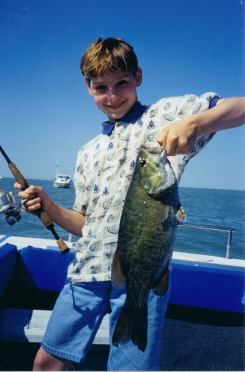 If it is the tenacious smallmouth bass you desire, let us take you on the trip of your life! We provide one of the best smallmouth bass fishing charters on Lake Erie.
We start catching bronze backs in early May however smallmouth bass are active through October. Tube jigs are the bait of choice. We fish our favorite rock piles and the 1st reef is only 2 miles from the dock consequently you have more time to fish! If you like to use live bait, we will make arrangements to have soft craws or big shiners onboard.
Ohio smallmouth limit is 5 per person per day most importantly you must know they ar catch and release only May 1st until the last Saturday in June.
The ODNR regulates the intake of smallmouth bass so closely because they are such a huge fishing resource.
Fish a combo trip catching a combination of smallmouth, walleye and yellow perch at no extra charge in contract competitors do not.
Smallmouth Bass Factoids
One might think the Smallmouth bass are not described properly as they have a fairly large mouth. It extends to they eye all the way to their eye. The key factoid is the mouth does not extend beyond the eye, in contrast the largemouth bass' mouth does extend past the eye. Young smallmouth bass have an orange color in the center of their tail furthermore distinguishing them from other bass. The smallmouth bass is in the Centrachidae (sunfishes) family, and furthermore is also called a bronzeback, brown bass, brownie, smallie, and black bass. Smallmouth bass generally range in length from 12 to 15 inches and weight from 1 to 2 pounds. However, they have been known to reach 24 inches and 10 pounds hence hooking one of these monsters rivals any fight you may have had with other fish.
Check out our fishing chart . It will help you decide when to book your Smallmouth Bass Fishing Charters with us because dates fill quickly.


CALL US TODAY!! (419) 340-0601