LODGING WITHIN WALKING DISTANCE OF THE BOATS!

30 BIG Boats!
The #1 Lake Erie Fishing Charters Service serving Port Clinton & the Western Basin of Lake Erie for over 35 years. The most popular charter boat service, we continue to also be #1 in customer satisfaction year after year!!!
One of the primary reasons people tell us they choose our charter service over others is our "LIMIT POLICY"!!
We fishing for walleye, smallmouth bass and yellow perch primarily. To research the best time to fish for each species use our fishing chart.
LAKE ERIE FISHING CHARTERS & OUR LIMIT POLICY
It is our policy NOT to bring you back dockside prematurely when you have caught your limit of walleye*. If you limit out in a couple of hours, which frequently occurs, we utilize the remaining portion of your trip to fish for another species or just catch and release walleyes.
* Any other species as well
This policy is MUST and not widely practiced by other charter boat services. Essentially you paid for and you should receive a full day of fishing, weather permitting of course.
Our charter service is large enough to handle any size fishing group, yet because of our modest beginnings as well as family and friends who still help us every day, we treat each customer like they were family and friends too.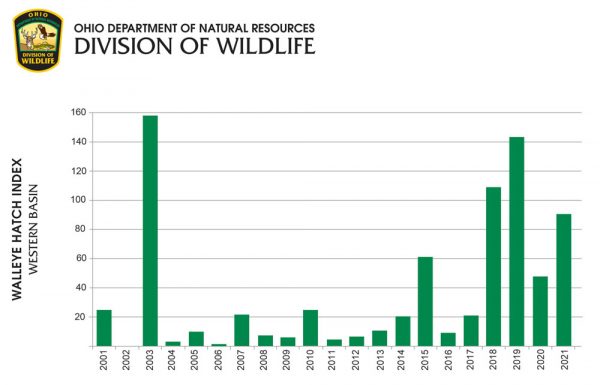 This year's Walleye Hatch Index from the Ohio Division of Wildlife shows this year's walleye reproduction was the fifth largest over the past 35 years. (Ohio Division of Wildlife)
So if your looking for that fishing charter service on Lake Erie that is a cut above the rest, that will provide a fishing memory of a lifetime and that can handle all of your trip's needs with one phone call, then you should call Sea Breeze Charters today!!