Lake Erie Walleye Charters
(click images to enlarge)
Lake Erie is known as the Walleye Capitol of the World. Millions of walleye are fished from the waters of Lake Erie every year.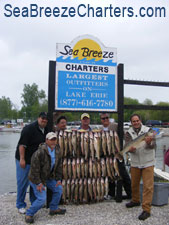 We start our walleye fishing season just after ice out (mid March). This is considered by many as trophy walleye time. Jigs tipped with minnows and blade baits are the ticket. We drift our favorite rock piles as walleye are spawning till early May. At this time we switch over to spinners tipped with night crawlers. Spinners are the lure of choice when drifting till early November. If you decide that you would like to troll, spoons rigged on dipsy divers or jet divers.
Check out our fishing chart to decide when to come fish with us.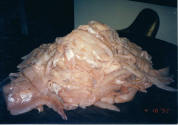 Ohio walleye limit is 6 per person per day. May 1st through the end of February. During the spawn March & April (TROPHY TIME) the limit is four per person per day.
Remember if we LIMIT early you can keep on fishing till we get your FULL DAY in.
Fish a combo trip catching a combination of smallmouth, walleye and yellow perch at no extra charge.
CALL US TODAY!! (419) 340-0601