Sea Breeze Charters is the LARGEST FISHING OUTFITTER in western LAKE ERIE. We have been delighting fishermen with lifelong memories for over 35 years. Fishing and lodging packages start at $100 per person. Bait and tackle is included on all of our trips. We also offer an executive package which includes food, beverages, and fish cleaning. Sea Breeze has the perfect package to suit your budget.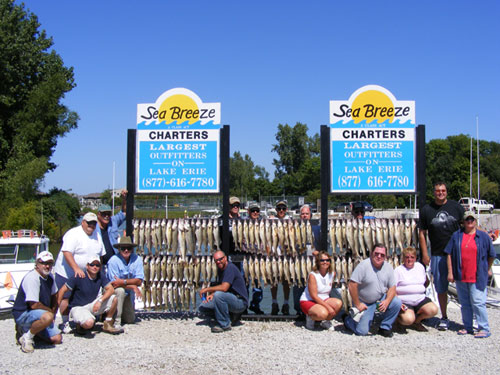 If you CATCH YOUR LIMIT in a couple of hours (which frequently occurs) we may utilize the remaining portion of your trip fishing for another species or just CATCH AND RELEASE. In other words, it is not our policy to bring you back to dockside prematurely.
Our clean, comfortable lodging is WALKING DISTANCE to the boat, restaurant, bar, convenient store, fish cleaning and fishing ponds.
After a full day of charter fishing on Lake Erie you may want to relax in our central air conditioned lodging. Or you can fish one of our FISHING PONDS for the rest of the evening.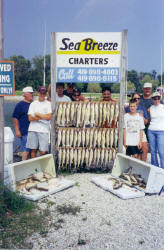 Walleye fishing on Lake Erie begins just after the ice melts and the winter temperatures begin to fade. Mid March begins the hunt for the trophy walleye of your dreams. For the best times to fish for Lake Erie check our easy fishing chart guide.
If it is the tenacious smallmouth bass you desire to mount on your wall or fry in your pan, then Lake Erie has some of the very best smallmouth bass fishing that North America has to offer. May to late fall is the prime fishing time for these deep diving, tail walking beauties.
You will be fishing aboard one of Thirty 30 foot Sportscrafts. Sportscraft boats are known for their fast and efficient seaworthiness on Lake Erie, and for their vast amount of individual fishing space.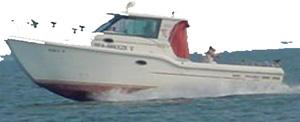 Your chartering vessel is fully equipped with; video sonar, radio telephone, GPS, depth sounder, AM/FM radio and tape player, along with other sophisticated electronics. Quality rods & reels are onboard for you to use at NO extra charge.
Ladies, all our boats have private restrooms.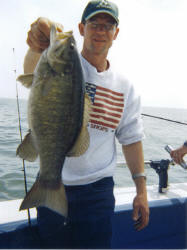 For you safe and secure fishing pleasure our service has life jackets available as well as all other required safety equipment.
Your guides are as reliable as the vessel you will be fishing aboard. Our guides are full-time fisherman and have lifelong experience fishing the waters of Lake Erie. Our staff has over 500 YEARS of combined experience fishing on Lake Erie.
BIGGER IS BETTER!
We have THIRTY boats in our fleet working together towards one goal, to put you on the fish. If need be, we will spread out on the lake looking for the most active school of fish. Then we converge on them like a pack of dogs. It just makes sense, MORE BOATS , MORE FISH.
Sea Breeze charters are responsible for more than 2000 clients every year. We have the EXPERIENCE and the KNOWLEDGE it takes to ensure that your trip is SAFE and SUCCESSFUL.
We keep you on the BEST BITE with multiple docks! Sometimes we have boats in two different marinas 30 miles apart. We are able to take weather and fish patterns into consideration to ensure you are on the best bite. What does this mean to you? MORE TIME FISHING, less time boat riding.
We have been featured on many outdoor television shows, magazine & newspaper articles.
You can take part in our Sea Breeze experience if you are interested in fishing for; walleye, white bass, smallmouth bass, and also yellow perch, make a reservation with us.
Whatever your desired fishing charter may be, we can provide the trip of your summer and quite possibly your life!!!
Call Capt. Bob (419) 340-0601
[Lake Erie Charters] [Rates] [Walleye Fishing] [Smallmouth Bass] [Yellow Perch] [Lodging]
[Staff] [Kids] [Photo Gallery] [Why Sea Breeze] [Fishing Charter Packages] [Fishing Reports]
[Things to Bring] [FAQ's] [Locate Us] [Our Guarantee] [Compare Charters]
[Best Time To Fish Chart] [Book a Charter] [Gift Certificates] [Free Screen Saver]
[Local Attractions] [Local Weather] [Email Us]
© 1997-2019 Sea Breeze Lake Erie Charters
All rights reserved
Site development & marketing by
Awesome Web Site Marketing